Profile of Professor Ren-Jye Liu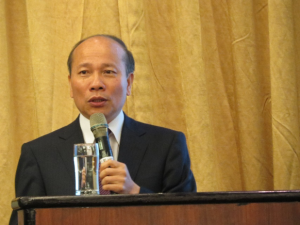 Ren-Jye Liu
Professor of Industrial Engineering & Enterprise Information
Tunghai University 407 Taichung, Taiwan, R.O.C.
Email:liurj@thu.edu.tw
Ren-Jye Liu is Professor of the Industrial Engineering & Enterprise Information at the  Tunghai University of Taiwan (www.ie.thu.edu.tw).
Professor Ren-Jye Liu received his B.S. in Industrial Engineering from Tunghai University  in 1980, and his M.S. and Ph.D in Business Administration from Kobe University of Japan  in 1988 and 1991, respectively. His research includes, among other areas, Lean Production, Business Strategy, International Business and Technology Management. Liu was Chairman of the Industrial Engineering & Enterprise Information department at Tunghai University from 1998 to 2001; appointed as consultant for the Taiwan Economic Ministry from 1993 to 1998. Respected by global academic peers, he was invited as Visiting Professor in the Business School, Osaka City University, first from 1997 to 1998 and again from 2016 to 2017, was invited by Kobe University as Visiting Professor in 2002 and, as a visiting faculty member, from 2002 to 2003, by Wharton School, University of Pennsylvania. He has been serving on the editorial board of Taiwan Industry Research Mook since 1999, and the director of Association for the Study of Industrial Management (ASIMJ), first from 2005 to 2011, and again from 2017 till up to date. He will serve as the Chairman of the 2019 ASIMJ international conference Committees.
Valued by private enterprises, Liu has been hired as the advisor of WELE Mechatronic, Victor Taichung, the Precision Machinery R&D Center and the Taiwan Machine Tool Foundation.
Professor Ren-Jye Liu's major achievements include development of Supplier Networks in Taiwan's Machine Tool industry and research on strategic alliances between Taiwanese and Japanese Enterprises in Mainland China. He has published over eighty articles, delivered keynote speeches and presented more than fifty papers regarding international business and technology management at international conferences. He is the author of twelve books in Taiwan as well as eight expertise articles in academic journals in both Japanese and English. He is the winner of many academic awards, including the IMA Award (1998, Japan), the TIEE Award (2004, Taiwan), the Carolyn Dexter Award Nominee of the Academy of Management (2007, USA), and the Excellent Book for Business Award of MOEA (5 different times, Taiwan).
His most recent masterpieces are "The Next Factory: Big Scenes from Global Manufacturing Transformation" and "Facing the future of Smart Manufacturer" which stirs up much discussions in US, China and Japan, especially by his combining the lean system and intelligence technology in becoming Lean Smart Manufacturing to cover both theory and practice.
Professor Liu's recent focus is on both the industry-academic cooperative projects in central Taiwan, namely Lean System Knowledge Application Alliance, and the international manufacture real practice consultation. Invited by various enterprises from Taiwan and Japan and by Japan Ministry of Education, Science and Technology, as well as Japan ODA, Liu has given speech while visiting South Korea, Japan, China, Thailand, Lao, Cambodia, Malaysia, Bangladesh, India, Turkey, Myanmar, Sri Lanka, US, Mexico, Czech and UK.